Level 2 Charging:
You are thinking of buying an electric car or have just purchased one. You are going to hear a lot about different "levels" of charging so we thought to give you an overview on how to approach this. What are different types Levels? How long does it to take to charge my car? Do they work with all cars? This is what we hope to tackle for you. This article is about Level 2 charging but click here to read our posts to Level 1 Charging and Fast Charging
If you are new to the area of electric vehicles and are exploring how charging works, you may have heard about different "Levels" of charging. In our last post, we gave you some background into Level 1 charging, and in this one we're going to dive into what Level 2 charging is all about.
What is Level 2 Charging for an EV?
From an electrical standpoint, Level 2 means a power source that is between 16 to 40 Amps, on 208, 220, or 240 Volts. This is the type of outlet that typically a home water heater or a dryer use. Most of the public charging stations that you see out there are Level 2 stations as well. We'll get into that a bit more later. Level 2 stations can give out anywhere from a little over 3 kWh to 7.2 kWh.
To give you an idea of what those outlets looks like, see the below in pink.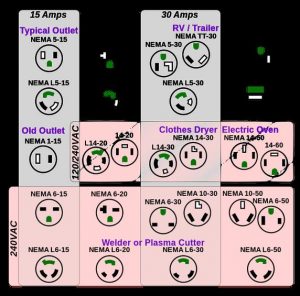 Diagram created by Wikimedia Commons user Orion Lawlor.
How long will it take to charge my car?
This is a really common question- how long until my car goes from empty to fully charged? The answer is this really depends on the size of your battery. Think of it this way: with a gas tank in your gasoline powered car, if I would ask you, "How much gas do I need for a full tank on a gas car?" You would say, the bigger the tank, the more gallons, and in turn fuel, it could hold. Different cars have different size fuel tanks.
With electric cars, think of the battery as your fuel tank. Different cars have different size batteries. The 2017 Chevy Volt, which is a plugin hybrid, has an 18.4 kWh size battery that on pure electric could take you about 53 miles before the gas kicks in. 2017 Chevy Bolt, which is a pure electric car, has a 60 kWh battery that can take you 238 miles. And, as of a new announcement a few months ago, the Tesla Model S Sedan and Model X SUV now have an option to be bought with a whopping 100 kWh battery pack which give them a range of ~380 miles. You can check out the battery sizes and the range of all electric cars here.
So how long will it take to charge a car on Level 2? Typically, most public Level 2 stations are set to give out 7.2 kWh and your battery, if like the 2017 Chevy Bolt, will take a little over 8 hours to fully charge from empty on a Level 2. Remember, most often, you are not going to be charging a completely empty battery. Charging your car is more like charging a phone, you top it off when you get home. If you're driving about 40 miles a day, which is what an average American driver typical does daily, to get that range back on a Level 2 Charger would take about 1.5- 2 hours. Want to know how much you drive a day? Take a look at our range calculator tool here under the "Daily Roundtrip" section.
Do all cars charge at the same speed when using the same Level 2 Charger?

No. Some cars can accept more electricity at a faster rate than the others. Each electric car has an on-board charger. This dictates how much electricity it can pull. So for example, the on-board chargers of the Chevy Bolt, Nissan Leaf, and BMW i3 can pull 7.2 kWh from a Level 2, which is great because that is the max output of your typical Level 2, 40 amp station. But some cars (typically a plugin hybrid electric vehicle know as PHEV) like the Chevy Volt, Ford Fusion Energi, Audi A3 Etron, pull around 3.5 kWh. The Hyundai Sonata Plug-in Hybrid could pull around 5.5 kWh. The Volkswagen E-Golf and the Ford Focus Electric, which are both full batter electric vehicles (BEVs), pull around 6.6 kWh. So that means for these cars, even if the Level 2 stations can give out 7.2 kWh, the cars on-board charger may not be able to take that whole amount. This is why, technically, what we refer to as the "Charging Station" is really called an EVSE, Electric Vehicle Supply Equipment. The actual is charger is technically on the car.
This info about the on-board charger rate could be important and we have made it easy for you to see that info. Take a look at our listing of cars here and click on the "Details" button to get that info.
Can my electric car work with every Level 2 Charger out there?
Yes, all cars can use a Level 2 charger. The industry has adopted standardization around the type of connector it uses for Level 2. It's called a J1772 and looks like this: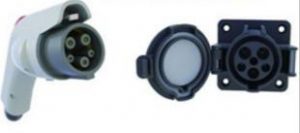 For Tesla drivers, the car comes with a J1772 adapter to plug in to the other side of your Universal Mobile Connector. Check out a video Tesla put out here for how that works.
Fast Charging, which is another higher type of charging above Level 2, has not standardized a connector.
When should I use a Level 2 Charger?
Typically, at the office, your home, parking garages, and hotels, are the most common applications for a Level 2 station but you could see them at retail locations and rest stops. We will have a dedicated series on how to choose the right type of station for each of these type of properties so stay tuned!
Are there different types of Level 2 stations?
Yes, there are. Like we said, a Level 2 station can be anywhere from 16-40 amps. Also, most Level 2 stations can be put into 2 different groups: Networked and Non-Networked. Check out our page here for the list of stations, and click on the "Details" button to see if the station is networked.
Typically, at a single family residential home, non-networked Level 2 charging is the way to go as they are less expensive and do the trick. Regarding multifamily, you may want to look at networked station (see our guide for multifamily charging here). When the station is out in the public, you may want a networked piece of equipment to charge people for using the station, restrict access to only work with your customers, residents or tenants, or to keep track of the usage and monitor the station.
We will have others posts that discusses how to approach public charging, whether to charge drivers for charging, and whether to purchase a networked or non-networked station,
Should I get a Level 2 station at home?
This is a solid question so we have dedicated a whole series of articles by our Director of Content Tom Moloughney on how to approach home charging and whether Level 2 is better than Level 1. Take a look at that article here
Click here to read our posts to Level 1 Charging and Fast Charging and check out the different public and residential Level 2 stations on the market here
Comments or questions? See something you like or would have liked to know more about? Email us at contact@evspace.com