When Chevrolet held their concept debut of the Bolt at the 2015 North American International Auto Show, they had unveiled what was at the time the prospect of the first long range, all-electric vehicle aimed at mass production for the consumer class. EVs by in large had been far beyond my realm of enthusiasm – I was not in the market, both financially and passionately, for a Tesla, and the Nissan Leaf had diagnosed me with range anxiety when it came to the thought of driving a car powered solely by electricity from my home.
However, Chevy introduced a new intrigue into a new product, and also trailblazed an industry concept that would soon follow suit by other vehicle manufacturers: the idea of an all-electric-from-the-ground-up vehicle, advanced enough to go beyond 200 miles on a full tank, but affordable enough to market to the general masses. No longer did I see electric vehicles as a car of luxury, and no longer did I associate it to the notion of range limited, power restricted mobility. Of course, the development of the Bolt only marks the beginning in a line of committed all-electric long rangers: the Tesla Model 3, which comes out in 2018, and Ford's first concept of a hundred-percent all-electric vehicle with a range of 250 – 300 miles, to be released in a few years.
It's for these very reasons that I invested in purchasing a Bolt:
• Power: a 230 mile full range on a full electric charge, via a 60 KwH battery.
• Price: a tag of less than $38,000 (excluding rebates).
• Popularity: as a mass marketed EV, I could see Chevy geared at also developing a vehicle infrastructure focused on user control and experience.
From my research and eventual purchase, it's clear that Chevy wanted Bolt owners to have full monitoring of their Bolt's charging capabilities and status. With level 1 charging, Chevy has stated that the Bolt will gain about 4 miles per hour of charge; with faster 240v level 2 charging, the Bolt will gain about 25 miles per hour of charge; and with the super DC-fast charging (often mistakenly called level 3), and Bolt can gain upwards of 180 miles of range in an hour of charging.
The Bolt's sleek interior specifications summarize this intake:
1. The Bolt dashscreen provides energy use details since the car's last full charge, such as the total amount of energy used in KwH (and through what means), the amount of distance traveled, and the consumption average of energy at each mile.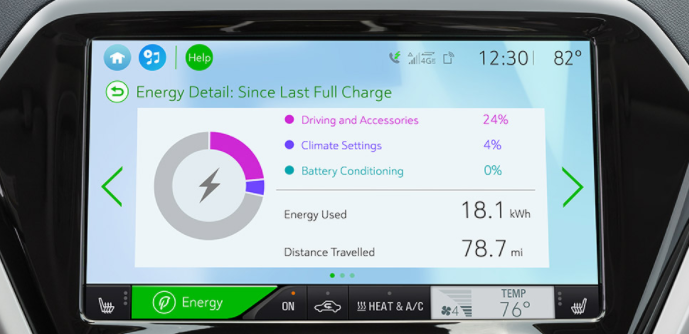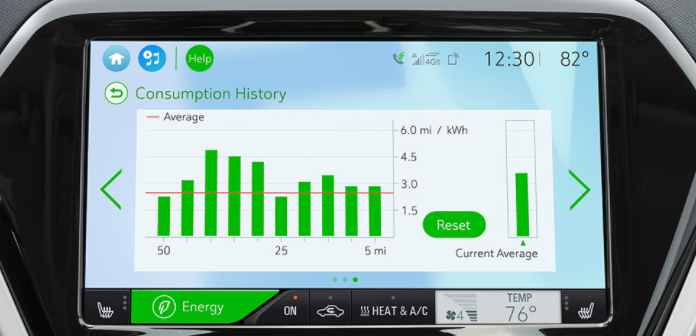 2. The Bolt dashscreen also allows for a visualization of the car's battery monitor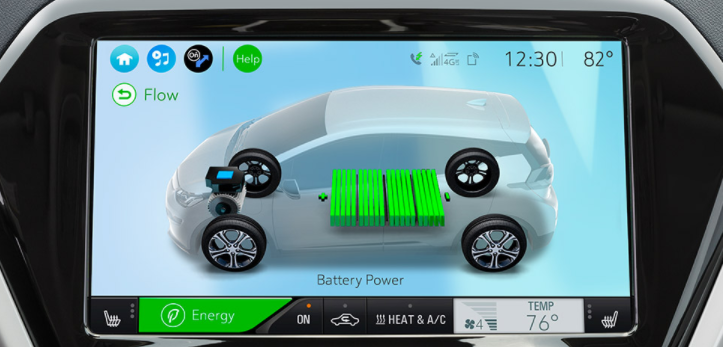 3. The dashboard behind the steering wheel presents the driver with a view of their EV range remaining, based on battery level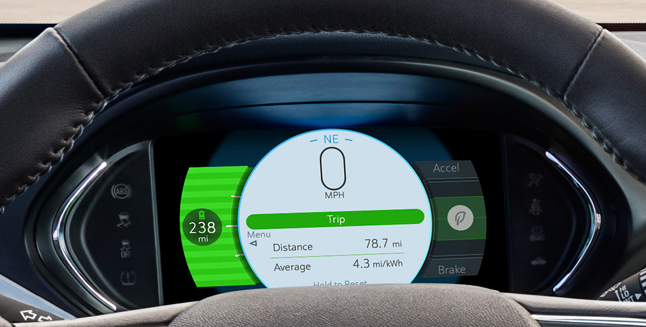 In addition, the myChevrolet mobile app allows me to remote start meBolt, monitor charge status of the battery, and view vehicle diagnostics (such as tire pressure) at any time.
With the development of the Bolt, Chevrolet has emerged as an early leader in mobility technology, in an industry that's very much as well in its own early stages of advancement. We hope you utilize EVSpace to research not only the Bolt in the framework of all EVs on the market, but the many charging solutions, both products and installation services, that are also currently available to all EVs. We believe the Chevrolet Bolt is the beginning of a new type of mass market approach to EV consumption, and we hope to help you navigate the growing EV industry as a result of this new forefront in technology.